30-second bio: Diana Jung
Get to know your colleagues from across UBC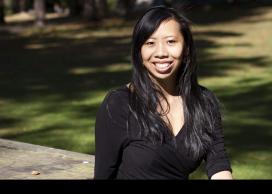 22 January, 2018
Name:
Diana Jung
Title:
Health Promotion Specialist
Department/Unit:
Health Promotion and Education, Student Development and Services
Location:
Vancouver
Year I started working at UBC:
2014
10 words or less to describe what I do at UBC:
Consult, collaborate, coordinate; faculty & staff engagement; wellbeing in learning environments
The best thing about my work/role at UBC:
"My work is driven by my passion for taking a strength-based approach and systems perspective to understanding student mental health and wellbeing. I'
My favourite place to spend my lunch hour :
My lunch hours are best spent with others, whether it is with colleagues, old friends, or former students. In terms of where, I'm particularly fond of the Ideas Lounge for lunch (you can never have enough bread) or Uppercase for coffee (and a blue chip cookie)!
My top UBC tip for my colleagues, or for someone beginning their UBC journey:
UBC is a large and complex place to work and as an employee, you only see a sliver of it. It can be really helpful to make connections outside your direct collegial networks and gain different perspectives on the work you do.