Teaching in focus: David Newman
Learn more about the work of our educators at UBC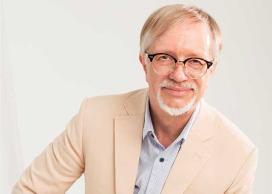 11 April, 2023
Name:
David Newman
My pronouns:
he/him
Title:
Sessional Lecturer
Faculty / Department / Unit:
Arts / School of Journalism, Writing, and Media / Writing, Research and Discourse Studies
Location:
Vancouver
Year I started working at UBC:
2019
---
What first motivated you to become an educator?
Growing up I always wanted to be a scholar/artist/entrepreneur with one foot within academia and one foot outside as a practitioner. Although I didn't start out as an educator, and my vision was to be some kind of media storyteller, deep down I always knew I would eventually pursue a doctorate and become an educator. What drives me now is helping to transform the world for better, inspiring one student (or more) at a time.
---
Tell us more about your work.
I teach the introductory academic research and writing course in WRDS, along with media history in the History Department. In both of these I am able to infuse creativity or teach creative problem-solving processes, which is my specialty. I position myself as a Learning Facilitator rather than instructor or prof in the classroom, creating (I hope) transformative learning experiences around the course content. Creativity is a critical capacity that is needed across all disciplines.
---
What inspired your particular approach to teaching?
I observed some years ago that many of my best teachers had also been practitioners and integrated their non-academic experience into the classroom. And learning is best embedded when students are engaged and actively involved rather than passively listening to lectures. This combination of active learning with connection to real situations engage students and lead to deeper learning. I use pedagogies such as game-based learning, improv, team-based learning, interteaching, and coaching to achieve this.
---
What have you learned while teaching that has surprised you the most?
How we don't have to be in control and spend all our time 'teaching.' When appropriately motivated, students will take responsibility for their learning, which is deeper when they are active; when they struggle with the subject matter to discover connections and understanding for themselves, rather than through direct teaching. As educators, we can provide the framework for this, coach them through the process, and then provide the teaching support when they get stuck.
---
What impact do you hope to have on your students?
I'm helping to transform lives, and ultimately, I hope, the world. I build classes around students grappling with concepts and ideas; and developing skills through active and team-based learning. I hope students leave my WRDS class more confident in their scholarly research and writing skills, as well as their creative capacity. Aside from course content, students develop their questioning skills, learn to collaborate in teams, and to support each other collegially in the learning process.
---
Are there any colleagues or mentors you'd like to acknowledge and why?
The late Roman Onufrijchuk was a teaching mentor for me while working on my PhD at Simon Fraser University. He was a student-magnet with his classes always oversubscribed, so I TA'd for him and we became friends. Through him, I began to explore what it means to be an effective educator, although I have developed a very different style. And my students, who I'm grateful to have so many curious minds to learn from.
Our people

Teaching and Learning

Teaching in focus