Teaching in focus: Sally Stewart
Learn more about the work of our educators at UBC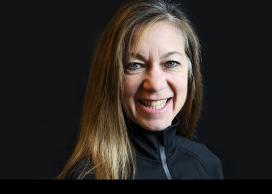 23 January, 2023
Name:
Sally Stewart
My pronouns:
she/her
Title:
Associate Professor of Teaching
Department/Unit:
School of Health and Exercise Sciences, Faculty of Health and Social Development
Location:
Okanagan
Year I started working at UBC:
2006
---
What first motivated you to become an educator?
Knowledge and experiences are wonderful but only if we apply and share them. My first jobs were teaching swimming, skiing and fitness and my passion grew from there. I love when students understand and/or gain new skills and resources, and are then inspired to apply and share… being in the field of health, we are all collectively contributing to a healthier and happier society. I am motivated by the dynamic nature of teaching, from the students, content, ways of teaching, learning, and to the learning environment itself.
---
Tell us more about your work.
I teach nutrition and general health courses. This affords me the opportunity to work with nursing and HES students, students aiming for other health professions and from all programs. Being an educator and knowing the power of personal health for academic success is the foundation behind my teaching innovation and educational leadership research. I developed a first-year heath course, HEAL 100, to teach wellbeing and foster academic success. I am focused on increasing access/availability of this course as well as helping faculty foster wellbeing in the classroom. I work on wellbeing committees, programs and leadership (e.g. ELNET for faculty mentoring and Chair of the Learning and Research committee) to help facilitate positive change for student learning.
---
What inspired your particular approach to teaching?
Enthusiasm and fun! We remember fun experiences shared with others, and ultimately the content/information. Fun breaks down barriers between students and professors, facilitating safe environments to question, "goof," receive feedback, and support one another as a learning team. A key factor for exercise adherence is choosing an activity one enjoys. I learned this concept early in my life and during my undergraduate studies; it made sense for me to apply this as my teaching approach. I've been known for demonstrating exercises on a classroom table, dressing up as a fake scientist, wrapping students in huge paper to teach digestive tract layers, or having students skip and do cartwheels across campus.
---
What impact do you hope to have on your students?
I want my students to be well and thrive in their time here at UBCO, and to leave with the knowledge, resources, and skills to be dynamic leaders and change-makers in our society. I want to fuel them with inspiration and a sense of confidence in their unique abilities that they have to contribute. Through the learning environment, I create, my intent is for students to have the opportunity to put more of themselves into their own learning, and to instill confidence and a sense of accomplishment.
---
What have you learned while teaching that has surprised you the most?
Giving up control! Generally, in academia, we are a bunch of high achievers and love to be in control. Absolutely, we need to be, to a certain extent, but as I have learned through the years, setting the scaffolding for learning experiences and letting the students think more about having to fill in the details, creates a wonderful teamwork approach. The students learn, not only more about the course content, but more about their potential. They rise to the occasion with more of a growth mindset.
---
Are there any colleagues or mentors you'd like to acknowledge and why?
All of them! Every colleague I have interacted with has contributed to my overall career experience. We are so lucky to work in such a diverse and dynamic environment; our interactions provide learning, challenges, social and fun opportunities, support, ideas, encouragement and more. Making strong connections with a few key colleagues have been instrumental in navigating the challenges and celebrating the successes. My parents fostered my drive and fun/enthusiastic approach to life; they never squashed it and I'm grateful to bring that into my classroom. My students continue to inspire and mentor me
Our people

Teaching and Learning

Teaching in focus