Tis' the season to schedule some Zoom holiday fun
Written by: Philip Keen, UBC Internal Communications
December 2020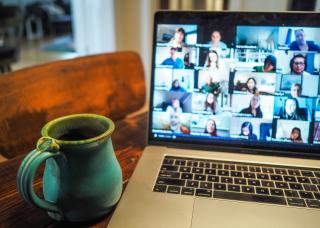 While there won't be the usual holiday gatherings this year, it doesn't mean you can't have some virtual fun with your colleagues, friends and family. Here are a few suggestions for how you can liven up your next Zoom call.
Zoom scavenger hunts
Zoom scavenger hunts can be hilarious. You'll find a wealth of resources online, including rules, hunt lists, and templates. The concept is simple — the host announces the name of an item the participants need to find in their home. The first person to return and show that item to the host on camera wins that round. Items can be as simple as a spoon — or more creative and harder to find like an object with an animal on it. The host keeps score and the winner is the person who ends up with the most points by the end of the game.
Pros: Great if you're looking to add some movement and energy to a meeting
Cons: Participants may need to be considerate of others in their home
Virtual holiday quizzes
If your group is a fan of the classic gameshows, consider hosting a virtual holiday trivia quiz. Quizzes can work really well on Zoom, especially if you use the polling feature. With this feature, you can create questions with multiple choice answers, and participants can respond in real-time. You can download a report of the poll results at the end of the quiz to figure out the winners. Alternatively, there are many game-based learning platforms available online, that are quick and easy to use.
Pros: Easy to set up and run with a group large or small
Cons: You'll need a licenced Zoom account to use the polling feature
Zoom talent shows
To unveil your group's hidden talents, why not host a Zoom talent show? Invite participants to take the virtual stage for up to three minutes and use a Zoom poll at the end of the meeting to vote on a winner. This is a great option for kids, or those who are young at heart, and love to perform. Consider allowing others from the same household to take part and make it a group effort. Whether a singer, dancer, comedian, actor or poet, your group's talents will provide hours of entertainment. Google 'Zoom talent show' for inspiration!
Pros: A great way to showcase the talents of your group
Cons: Participants will need time to plan their performances in advance
On behalf of everyone in the UBC Internal Communications team, happy holidays!