Hot meals on campus haven't gone cold during the COVID-19 outbreak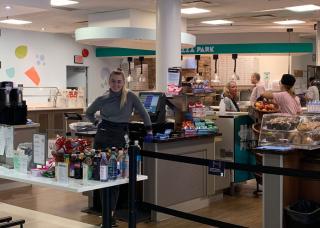 This is part three in a series recognizing faculty and staff who are adapting to new ways of working on UBC's campuses as a result of the COVID-19 outbreak. In this update, we share the experiences of those in UBC Okanagan (UBCO) and UBC Vancouver (UBCV) Food Services.
Back in March, UBCV and UBCO Food Services closed most of the food outlets on campus as a result of COVID-19. The few that remained open have been serving as an important lifeline for the UBC community still living, working and studying on campus.
In line with provincial guidelines, some additional locations are now starting to reopen. Strict precautions remain in place, and over the last few months, staff have been working hard to ensure that everyone remains safe.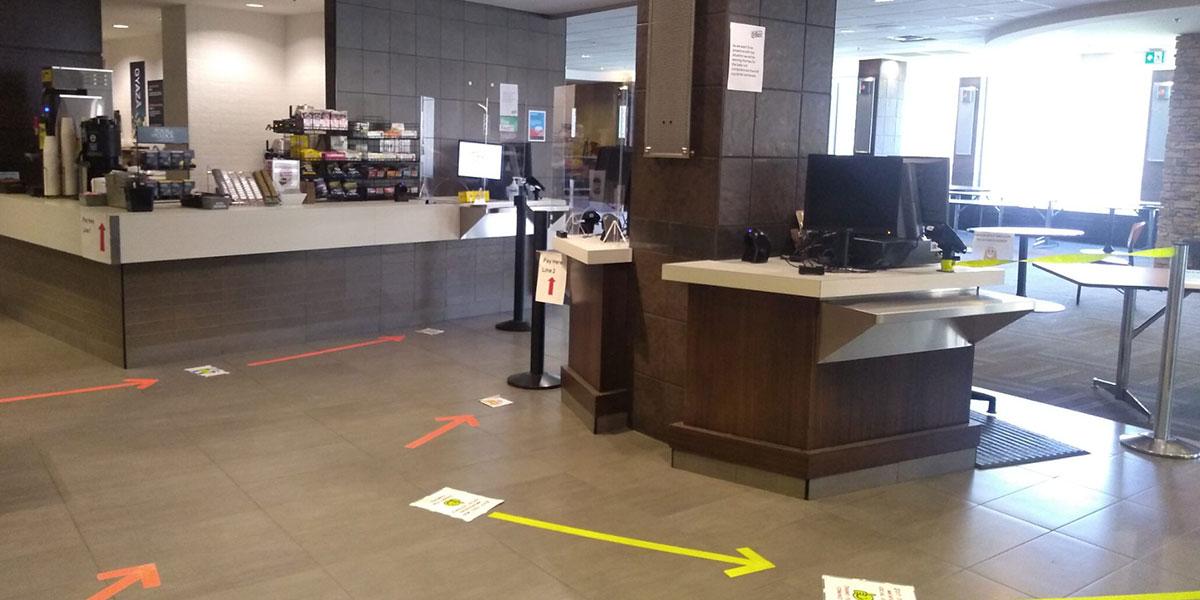 Adapting to change hasn't been easy as staff take on new challenges
Rey Arandia is a frontline sales attendant who works in UBCV Food Services. He spends his time working between two residence dining rooms — Gather at Place Vanier Residence, and Open Kitchen at Orchard Commons.
Rey made the decision to remain working on campus, as he wanted to show his ongoing support and commitment to the UBC community.
"I've been at UBC for 21 years," explains Rey. "I look forward to work as I get to meet interesting people every day. It's a really fun job but March and April were challenging months. We were interacting with people daily, and even though there were less guests, it felt like the amount of work we were doing increased."
To ensure everyone's safety, staff at UBCV and UBCO Food Services have been increasing the frequency and extent of cleaning and sanitizing, especially in high-touch areas. They've also been imposing strict physical distancing measures and serving food in single-use takeout containers with disposable cutlery.
Staff have been serving up additional support to students in isolation
Many of Rey's interactions have been with students in residence. Those who had mandatory meal plans as part of their accommodation were visiting the dining rooms up to three times a day.
"I was doing as much as possible to comfort the students," says Rey. "I think they appreciated seeing a familiar and friendly face. I'd ask them how they're getting on and they'd tell me how much they missed walking to class and having a set routine."
Shelley Buchner is a team lead in UBCO Food Services. She works at the Picnic in the University Centre, which has also remained open for takeout since mid-March.
"Some of the students we'd see were those who had remained on campus because they couldn't go home," explains Shelley. "We quickly got to know those in isolation as there were only a few of them. We would drive over, place their meals down, knock on their door, and stand back. It was like providing room service in a way."
Some of the students we'd see were those who had remained on campus because they couldn't go home.

Shelley Buchner
Smiles have still been on the menu despite all the challenges
Shelley and the team at UBCO Food Services set up tables to help maintain physical distancing between staff and guests.
Rather than have guests roam freely around the servery, they've been asking people to line up two metres apart, then inviting them to step forward and place their order. They then do all the running back and forth between guests and the cooks.
"For the most part, we've had to just go with the flow," explains Shelley. "And when things haven't worked, we've switched it up and adapted as needed."
Both teams at UBCV and UBCO put markers on the floor to help remind guests about physical distancing. They've also provided additional hand sanitizer dispensers for guests and restricted the number of people coming into the areas.
"Our leaders have been keeping us well informed and guests have been really good about physical distancing," says Shelley. "Despite everything, team morale has been good, and we've still been able to joke and have fun."
More information
On UBCV campus, Harvest Market has remained open seven days a week for takeout. Also, Mercante, The Point and Tim Hortons (Forestry Sciences) have recently reopened for takeout.
On UBCO campus, Picnic has remained open seven days a week for takeout. Also, Tim Hortons (Library) has recently reopened for takeout, and is now operating Monday to Friday.
Visit the UBC Food Services (Vancouver) and UBC Food Services (Okanagan) websites to learn more about the additional precautions being taken as a result of COVID-19. The sites also have up to date information about which food locations are open on campus.
You can also visit the COVID-19 website for information about UBC's response , including FAQs for students, faculty and staff and UBC News for more stories about UBC making a difference in the community.