Cheering on, through the pandemic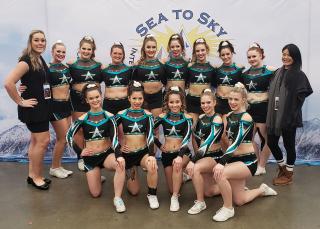 Cheering for others stems deep for Erin Fehr, and this enthusiasm is something she brings into her role as the recruitment officer for UBC Engineering in the Faculty of Applied Science. Every year, Erin visits high schools in Metro Vancouver, encouraging students to explore a career in STEM (science, technology, engineering and math), telling inspiring stories, and eventually — welcoming aspiring engineers into the program. 
Hundreds of prospective students meet Erin, but do they know they're actually receiving a pep talk from a world-class, award-winning cheerleader?
Since falling in love with cheer at the age of nine, Erin has been involved with competitive cheer communities all around the US and Canada. She explains: "Growing up, people would think of cheerleading as standing on the sidelines with pom poms, and you'd have to tell them we're actually athletes. We're lifting and throwing people in the air."
According to Erin, cheer has helped make her the person she is. "Leadership, organization, being comfortable in front of a large crowd — I owe a lot of that to my long background in this team sport which requires so much trust, organization, and planning," says Erin.  
Cheerleading helps with planning, building trust, and teamwork 
Erin has competed on many teams over the years and won awards and competed at the world championships. Teams usually range from 16 to 24 members, with athletes specializing in tumbling, jumps and stunts. Erin adds: "Working on a team in cheer, trust is a huge thing. Doing stunts as a base, if I throw a flyer in the air, I have to catch her. I trust that the flyer will do her job and come down properly and the flyer trusts that I will throw her and catch her."
To those who have watched Netflix's Cheer, this competitive team sport may seem a bit daunting. With so many people in close proximity — flying through the air, rolling on the ground — staying organized and being prepared is essential to ensure each person is doing exactly what they're expected to do, at the right time and place.
"In cheer, there's no option to miss a step, because if you do, someone will get hurt. There's a lot planning, which has translated into my work."
Competitive cheer routines are typically two and a half minutes long, and during those 150 seconds, cheerleaders demonstrate their coordinated teamwork and sheer athleticism by tumbling across the floor with handsprings and backflips, stunting human pyramids and basket tosses, and dancing with enthusiasm throughout.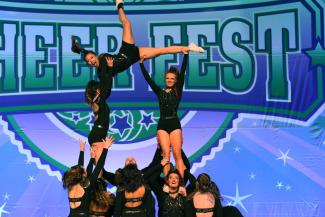 Cheering on colleagues and the community at UBC
Image
In 2019, as Erin was contemplating retirement, her husband Jared decided to start cheerleading for the first time in his life. They started practicing together on the same team and in the same role, but in different stunt groups. Before long, they were dreaming of training for and traveling to Florida for the world championships.
"Working on a team in that environment is so different from what you would normally do in life," says Erin. "The whole team works together, and having Jared with me definitely brought us closer."
Many others within the UBC community are involved on her cheer team. Erin adds: "My flyer is the UBC Cheer team coach, another teammate is training the UBC varsity volleyball team, and one works in student orientation at another institution." 
Staying motivated through change
Image
Erin and her teammates had set their sights on the world championships in spring 2020 — until COVID-19 changed everything. 
For team members like Erin and Jared, practice was limited to individual skills only, such as dance, jumps and tumbling. For athletes under 21, practice continued in a limited capacity, shifting performances to create 3m separation between team members.
Unable to stunt and without competitions to aim for, Erin is now focused on staying active and lifting weights, planning for when restrictions will lift and which cheerleaders to choose as her safe six for stunting. 
As Erin confirms registration for next cohort of aspiring engineers at UBC, she's uncertain about what will happen next in cheerleading. She continues, "It's been hard to stay excited when we don't know what will happen and what the future holds. We're on a team, but we can't practice stunting or compete. But we still cheer, encouraging our teammates to progress and compete virtually — just mostly from the sidelines."
Written by Alpha Lam, UBC Internal Communications
May 2021