How UBC went online — virtually overnight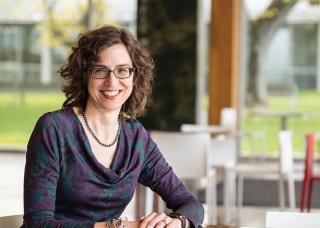 This is part four in a series recognizing faculty and staff who are adapting to new ways of working as a result of the COVID-19 outbreak. In this update, we share the experiences of those in the UBC Okanagan (UBCO) Centre for Teaching and Learning (CTL) and UBC Vancouver (UBCV) Centre for Teaching, Learning and Technology (CTLT).
It was late afternoon on Friday, March 13 when instructors learned that the university would be transitioning to online classes for the remainder of the term, as part of UBC's coordinated response to COVID-19. Faculty had until Monday to figure out how to move their classes, lectures, mid-terms, and final exams online.
Christina Hendricks, Academic Director of the CTLT, knew she and many staff were about to have a working weekend like no other. "We figured this news could be coming and we had done some planning ahead," she says. "A week before the announcement, the Keep Teaching website went live. But the timing of the transition did make for a very busy and stressful weekend."
An intense weekend of collaboration and innovation
The next 72 hours were an intensive exercise in collaboration, communication, and innovation for the staff at the CTLT, CTL and Learning Technology (LT) Hub — a partnership between the CTLT and UBC IT that provides support to staff and faculty for UBC's Learning Technology Ecosystem. Many of the 100+ staff, Work Learn and co-op students at the CTLT and LT Hub worked throughout the weekend to ensure faculty had the information and help they needed to move their lessons and assessments online, using the university-wide online learning platform Canvas.
At UBCO, a flood of visitors sought out the CTL webpage on teaching remotely, with visits jumping from 20 to 200 users a day over the March 14 weekend. "We were very busy that first week," reflects Peter Newbury, Director of the CTL. "Our help desk was open all day, every day, including the weekends. We got the basics of teaching online up on our website as quickly as possible, and then we kept adding to it as the rest of the term progressed."
"Looking back now, it was exhausting, and it was also very rewarding to see what people were able to do," says Peter, who notes that the helpdesk received 1,900 emails from mid-March through April, compared to 250 at the same time last year. "Everybody's stress and anxiety was very high, and we could see that we were able to alleviate some of that stress, and know that we were able to support them through it."
Everybody's stress and anxiety was very high, and we could see that we were able to alleviate some of that stress, and know that we were able to support them through it.

Peter Newbury
Providing online support where it's needed most
"The CTLT were amazing," says Angela Redish, Professor of Economics at the Vancouver School of Economics. "I had a first-year economics midterm test scheduled for the Tuesday of the following week, and I was worried about how we were going to do that. The team got back to me right away, and someone spent the weekend helping me put the quiz up online. I wouldn't have known where to start."
Within the CTLT, there has been a race to innovate and adapt to the changing needs of the university. It has moved all of its professional development programs to a virtual format, and, due to a flood of demand, expanded the offerings to include a Remote Teaching Institute, a series of online professional development workshops on teaching remotely.
The Learning Technology Hub has also been crucial to the success of the shift to online classes in Vancouver. The team quickly pivoted from being a physical drop-in centre on campus to a virtual resource where one-on-one live support is available on demand. "For anybody to be able to come in and get help has been incredibly useful," notes Christina. "We recently had an instance where a faculty member reached out while they were teaching, and they were able to get immediate help in real time during their class."
Thousands of requests for help fielded
In total, more than 7,000 course sections on the Vancouver campus were faced with the decision of transitioning online. While many courses already had some elements in the Canvas learning management system, transitioning to an entirely online class delivery was a new undertaking for many instructors and teaching assistants — and a first for the university at this scale.
That first weekend alone, the LT Hub and the CTLT's Keep Teaching website received 16,000 page views, as faculty and teaching staff consulted its step-by-step guides and FAQs on online teaching tools. By April 30, the site had received over 39,000 views and the LT Hub had fielded over 1,000 faculty support tickets between March 13 and April 9.
"The way in which the CTLT and LT Hub teams handled the flood of demand just showed, even more, how dedicated to teaching and learning they are, and how much they care," Christina reflects. "They have shown an incredible amount of creativity, flexibility and resiliency. They really rose to the challenge, and the most rewarding part of all of this is being able to work alongside people who are doing such great work."
The most rewarding part of all of this is being able to work alongside people who are doing such great work.

Christina Hendricks
More information
You can also visit the COVID-19 website for information about UBC's response , including FAQs for students, faculty and staff and UBC News for more stories about UBC making a difference in the community.
Online Teaching Program launching in June
The CTLT is currently developing a new program to support faculty in designing and facilitating an online course. The Online Teaching Program will include multiple self-paced modules, workshops, and 1:1 consultations. It's intended to support faculty in preparing to teach online for Winter Term 1. Look for this program launching in mid-June.