Tara Newell proves 'UBC's Got Talent'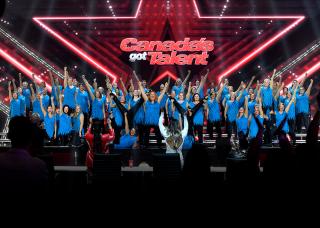 Anyone watching an episode of Canada's Got Talent (CGT) recently might have spotted a familiar face on the stage. Tara Newell, who works within the Faculty of Medicine, was among the members of Lions Gate Chorus who wowed the judges with their rendition of Queen's song 'Don't stop me now'.
"It was awesome and a lot of fun," says Tara. "Howie Mandel got really excited and said he wanted to hire us! Lilly Singh said how great it was to see women of all ages performing together."
The Lions Gate Chorus sings in the style of a barbershop a capella choir, characterized by four-part chords. The 100-member chorus welcomes all cis and trans women, as well as non-binary people who are comfortable in a space that centres the experiences of women.
"We move and dance as well as sing, which is why we are a chorus," explains Tara, who is a tenor. "We have a choreographer who is based in Sweden who helps us map out the choreography for our performances along with a visual leader in the chorus."
The group was invited to audition for the judges in Niagara Falls, after submitting an audition video earlier. The performance ended with three of the judges on their feet, and four resounding 'yeses' to go through to the next round.
Aside from winning over the judges and audience at CGT, Lions Gate Chorus have a number of other accolades under their belt. They've reached the finals of the Sweet Adelines International Convention many times, and in 2019 they placed second.
Tara adds: "We like to joke that we are the North American Champions, because the winners that year were from Sweden.  I think our success is due in part to the fact that our musical director is incredibly talented, pushes us, is constantly learning herself and brings in new coaches to work with us. My singing has definitely improved since I joined in 2014."
"Lilly Singh said how great it was to see women of all ages performing together."

Tara Newell, Alumni Engagement Manager
In her role as Alumni Engagement Manager at UBC, Tara spends her time focusing on helping alumni engage with the university through events, webinars and other networking opportunities. She admits that the last two years have been tough, especially with the transition to online events, but Lions Gate Chorus has played a major part in helping her through the pandemic.
She continues: "There is such a strong sense of community and friendship within the chorus. I recently organized to go wedding dress shopping with my mom, but she had to cancel at the last minute due to illness. I mentioned it to a couple of my chorus member friends and they dropped everything to come with me."
Unfortunately, the Lions Gate Chorus didn't make it through to the CGT semi-finals, but Tara insists that the experience was worth it. "It was actually less stressful than when we are competing," she says. "Having performed at the MGM Grand in Las Vegas for the international finals, Canada's Got Talent felt like we could have some fun."
As for anyone who might be considering joining a community choir? Tara's advice is to "just put yourself out there."
She adds: "When I first joined the Lions Gate Chorus, I didn't know many people in Vancouver (I found them through Google). I would never have guessed what an impact it would have on me. In addition to making so many friends, I actually met my fiancé through a friend in the chorus. It just goes to show that you never know where it might lead."
Click here to see the Lions Gate Chorus in action on Canada's Got Talent
Written by Kate Hunter, UBC Internal Communications
May 2022
"There is such a strong sense of community and friendship within the chorus."

Tara Newell, Alumni Engagement Manager
Are you a faculty or staff member with a fun story to tell? If you or someone you know is doing something exciting (in or outside of work), we want to hear from you! 
Email us at internal.communications@ubc.ca