Fuelling a sustainable solution to save energy and preserve food
How Dr. Hamid Rezaei's efforts are transforming sustainable food systems
Earlier this year, we asked our faculty and staff to tell us who among them were taking actions or driving initiatives to advance sustainability at the university. This is the final story in a five-part series recognizing sustainability efforts at UBC.
Image
How many times have you purchased more food than you needed, discarded leftovers after taking larger meal portions than you could eat, or left your electronics and appliances plugged in while they were not in use? Dr. Hamid Rezaei, a research associate in the Department of Chemical and Biological Engineering at UBC Vancouver, has been observing food and energy waste as a habit, not only among individuals but also within the food processing industry over the past decade. He has dedicated his research, work and life towards finding eco-friendly ways to reduce food, energy, and water waste to help conserve and save these natural resources.
Growing up in the north of Iran renowned for its farming, agriculture and food industries, as well as having been actively involved in his family business of agricultural machinery and farming supplies, Hamid has many memories involving his love for food and natural resources. "Early on, I recognized the value that food brings to society," he says. He adds: "However, I was also very aware that vast amounts of food that did not get sold were being dumped, and as a result wasted in the process. When food is wasted, so is all the water and energy used in producing, processing and transporting the food – it really is a chain reaction harming the environment."  
Throughout his bachelor's degree to PhD, for which he moved to Canada in 2013 and joined the Biomass and Bioenergy Research Group at UBC, Hamid strengthened his knowledge and experience, as well as contributed to research in chemical engineering, waste water processing, municipal waste processing, and waste to fuel/energy. He has spent over a decade conducting research to help upgrade the quality of abandoned and low-value forest and agricultural residues in Canada to renewable and sustainable wood pellets, and has made significant contributions in this space through his highly qualified personnel (HQP) training.
He says, "During these years, I saw firsthand, in a different country, all the waste generated in the agri-food industry – right from the farmers harvesting the original ingredients to final food production. It was heartbreaking, because food and water are basic needs for everyone." He found that farmers traditionally destroy agricultural residue for a number of reasons. That's when it struck him that he could harness the potential of the residue from farms to develop a sustainable local fuel for the Canadian market that could replace the use of fossil fuel.
In a series of serendipitous experiences, life came full circle for Hamid and ultimately brought him back to his passion for food, culminating in the formation of CanDry Technologies, which grew with support from entrepreneurship@UBC. In this venture, he spearheads research and development. He says, "I've developed a sustainable and low-temperature dehydration system for food preservation."
Traditionally, dehydration equipment either depletes the food of nutrients or is expensive and challenging to transport. However, CanDry's technology has intentionally been designed to be portable and economical. He says, "I wanted to help food processors preserve their produce in a way that works best for them, so instead of making them send their farm waste or low-value food products to our drying facility, which is a cumbersome process, we transport our technology to them, to help them manage their operations." Hamid adds, "Decentralization is the key to sustainable agri-food processing. I think of local processing as a global solution, and I hope to see such sustainable operations implemented across Canada and beyond."
Hamid emphasizes that preventing food waste and food safety go hand in hand. With the help of the CanDry's dehydration technology, instead of destroying excess food at farms and food production companies, such produce can be converted into high-value commercial products (e.g. chips and powder ingredients) with a long shelf life through dehydration – at half the cost offered by conventional drying processes. The technology helps retain more than 97% of the nutritional value of the food. "If we're looking at long-term change, our solutions need to be economical, sustainable, flexible and within everyone's reach," he says. At the same time, he says the packaging needs to be eco-friendly to ensure the entire process is sustainable. 
"Decentralization is the key to sustainable agri-food processing. I think of local processing as a global solution, and I hope to see such sustainable operations implemented across Canada and beyond."

Dr. Hamid Rezaei, Research Associate, Department of Chemical and Biological Engineering, UBC Vancouver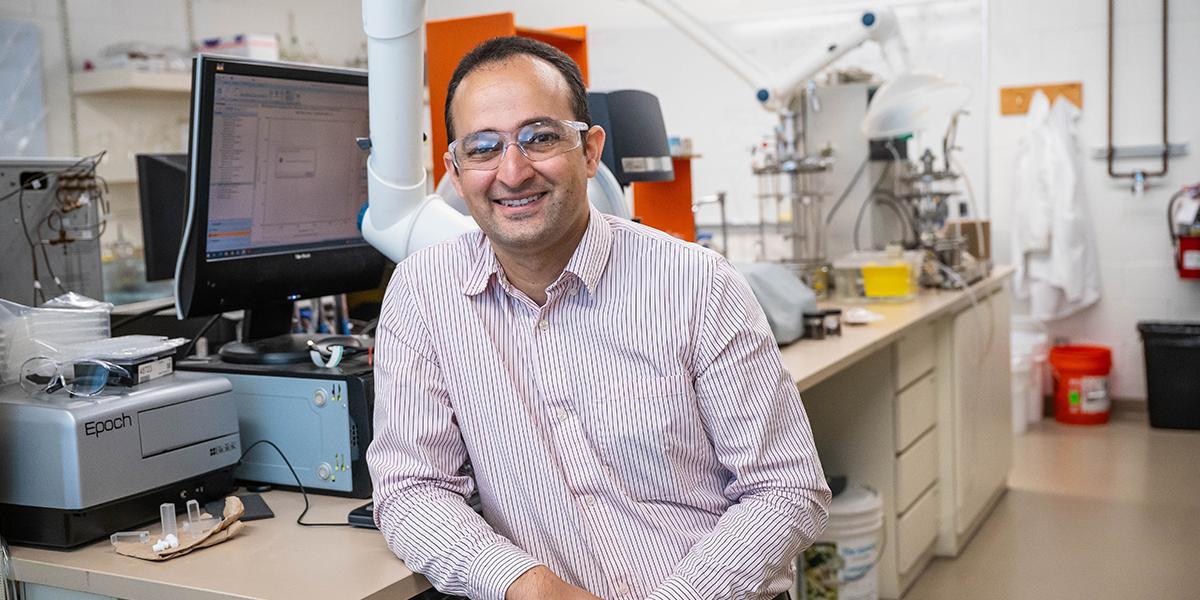 Hamid is excited to bring this technology to the UBC community. "We're currently working with graduates from UBC Sauder to develop samples and introduce our technology on campus. UBC is such a strong advocate for sustainability, and I'm excited to see the impact this will have on changing mindsets, lives and the way we look at food at the university."
He adds: "As members of the community, we all are at the driver's seat and can take small steps towards achieving zero food waste and saving our resources. This is the need of the hour and I believe should be embedded into every aspect of our lives. I'm thrilled to see more students enter this space, and would love to see them develop a passion for doing business in a sustainable manner."
According to Hamid, it is possible to save the environment in an economically viable way. He says: "We need to move away from a one-dimensional view of sustainability and recognize that it is a fundamental aspect of business and life. Food and energy are at the heart of our existence, and when we save them, we save so many elements of our environment."
He stresses the importance of thinking beyond what you see on the food shelf. "As a consumer, you have the ability to prevent food waste. When you buy food, you send a message to the producer that you're happy with the way they are producing or packaging the food," he says. Further, he states that it is equally important to stop buying products that contribute to environmental damage and waste production, because communicating with food producers by taking action is the only way to evoke a meaningful change.
As Hamid looks to the future, he hopes to continue contributing to UBC's pathbreaking research, inspire the next generation of students to take action, and devise innovative and sustainable ways to preserve food through a combination of his passion, research and cutting-edge technology.

Written by Aditi Ghosh-Mooruth, UBC Internal Communications
Interviewed in June 2023
"As a consumer, you have the ability to prevent food waste. When you buy food, you send a message to the producer that you're happy with the way they are producing or packaging the food."

Dr. Hamid Rezaei, Research Associate, Department of Chemical and Biological Engineering, UBC Vancouver