Research in focus: Heather Higo
Learn more about the work of our researchers at UBC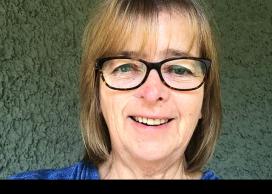 7 December, 2020
Name:
Heather Higo
Title:
BeeCSI Project Field Manager
Department/Unit:
Department of Molecular Biology and Biochemistry
Are you Faculty or Staff?
Staff
Location:
Vancouver
What year did you start working at UBC?
2011
Provide an overview of your research in 75 words or less:
Using proteomics and genomics, we aim to reveal markers for stressors that honey bees are subjected to in agricultural environments. In BC the field portion of the project involved placing colonies into both blueberry and cranberry crops and unexposed sites. Honey, bee bread, and bees were sampled to be tested for pesticides, pathogens and differences in molecular markers in bees. Subsequent lab trials will challenge bees with stressors identified in the field.
---
What first motivated you (or motivates you) to conduct your research?
Bees are critical to Canada's agriculture systems, pollinating a diversity of crops including blueberries and other berry crops, apples and hybrid canola, in addition to honey production throughout the country. But honey bees have come under increasing health stressors in recent years which motivates me to address this situation, and try to determine how these stressors are manifested in the bees and if molecular markers can help beekeepers to maintain the health of their bees.
---
What do you hope will change as a result of this research?
My hope is that genetic markers for stressors that bees are undergoing will help bee managers to keep their bees healthier. It is not uncommon for beekeepers to be flummoxed when colony health declines and colonies dwindle or die without an obvious reason. Consistent colony losses of 20-40% cannot be sustained over the long term. Marker technology could identify the causes and provide the bee manager with potential solutions going forward.
---
Are there any research collaborators you'd like to acknowledge and why?
I am working out of the proteomics lab headed by project co-leader, Dr. Leonard Foster, whom I have known for many years. His clear, forward-thinking approach has allowed great progress in bee research and stimulated me to continue. The project leader is Dr. Amro Zyed (York University) who has been instrumental in moving this project forward. My field collaborator is Julia Common, who shares my passion for the fascinating insects we work with every day!
---
What have you learned during your research that has surprised you the most?
I am always amazed by the new questions that research opens up, rather than answering a question and thereby closing a door! This year, the surprises were more human-related: I was amazed that we accomplished so much, in spite of the current pandemic! I work with a great team, and even without being able to hire research assistants, we pulled together and managed to move colonies, do all the sampling, and maintain the project's integrity.
---
What impact does your project have on the community or environment?
The BeeCSI project is using cutting edge science to address a real-world problem: improving the health of honey bees — a vital link in our agricultural system! Understanding how it can help us move forward with honey bee health inspires me to continue, even with 30+ years of bee research behind me already. Understanding how our agricultural environment is affecting honey bees is crucial to maintain our food production capacity and protect the larger environment.
Our people

Research

Research in focus