Research in focus: Alexander Weber
Learn more about the work of our researchers at UBC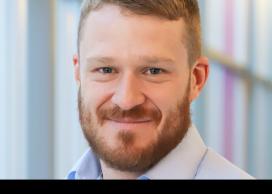 25 July, 2022
Name:
Alexander Weber
My pronouns:
he/him
Title:
Assistant Professor (Partner Track)
Department/Unit:
Medicine/Pediatrics/Neurology
Location:
Vancouver
Year I started working at UBC:
2015
Provide an overview of your research in 75 words or less:
My lab uses MRIs to help scientists and clinicians better understand brain health and disease. Specifically, I am interested in leveraging the incredibly diverse range of information that MRIs can provide - such as anatomical, functional and metabolic data - to give us a more detailed picture of how the newborn brain develops, and how things like preterm birth or injuries can alter this critical stage of development.
---
What first motivated you (or motivates you) to conduct your research?
I have always been interested in the brain, but it wasn't until I attended a biophysical conference during my Master's that I saw someone give a talk on MRIs. At the time I was doing brain-protein research, but felt that what I was discovering was such a small component of neuroscience. MRIs seemed to provide a bigger-picture view of the brain that I found very exciting (and still do).
---
What do you hope will change as a result of this research?
I hope my research will provide answers to questions we have about how the preterm and term baby brain develops - and how it is affected by brain injuries. As a result of our discoveries, knowledge translation, and commitment to open science, I hope this leads to improved understanding - and ultimately - improved therapies to prevent long-term cognitive/behavioural outcomes.
---
Are there any research collaborators you'd like to acknowledge and why?
Dr. Alexander Rauscher was my postdoctoral supervisor for four years when I moved to Vancouver in 2015. Without his guidance and friendship I definitely would not be in the position I feel very fortunate to have found myself in today. I feel very fortunate to have collaborated on several projects with Dr. Ruth Grunau, whose expertise and knowledge in neonatal brain development research I find indispensable at this stage of my career.
---
What have you learned during your research that has surprised you the most?
Oh my goodness. That everything is so much more complicated than you first think. That it is ok to fail - and even good - as long as you take the opportunity to learn from it. That having a growth mindset is so important - and that anyone can learn anything as long as they put the time in. To always be curious about a result that is unexpected...
---
Suggested links:
Our people

Research

Research in focus