Research in focus: Virginie Magnat
Learn more about the work of our researchers at UBC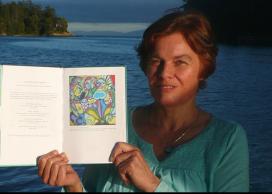 27 June, 2022
Name:
Virginie Magnat
My pronouns:
she/her
Title:
Professor
Department/Unit:
Faculty of Creative and Critical Studies (FCCS)
Location:
Okanagan
Year I started working at UBC:
2006
Provide an overview of your research in 75 words or less:
I am a performance scholar-practitioner who works at the intersection of performance studies, cultural anthropology, qualitative research, arts-based inquiry, and Indigenous epistemologies and methodologies. I published two monographs, The Performative Power of Vocality (Routledge 2020) and Grotowski, Women, and Contemporary Performance: Meetings with Remarkable Women (Routledge 2014), both based on SSHRC-funded research.
---
What first motivated you (or motivates you) to conduct your research?
Collaborating with performance practitioners from different cultures and learning from my collaborators.
---
Are there any research collaborators you'd like to acknowledge and why?
I'd like to acknowledge the seven members of the Indigenous Advisory Committee formed for the SSHRC-funded research that I conducted for my second monograph, entitled The Performative Power of Vocality (Routledge 2020).
---
Describe any interesting research milestones you are approaching
The Special Issue "Performance Training and Well-Being" that I edited with Nathalie Gauthard (Université d'Artois) is being published in June 2022. It features thirty-eight contributors from eleven countries, and we are especially honored to feature the work of Indigenous and non-Western artist-scholars responding to the urgent need to acknowledge, value, and engage with multiple ways of knowing so as to decenter, unsettle, and decolonize Eurocentric paradigms that still inform dominant knowledge systems. 
---
Learn more:
https://fccs.ok.ubc.ca/about/contact/virginie-magnat/
Our people

Research

Research in focus