Getting down to the business of climate change
Dr. Justin Bull spearheads UBC's new MBA Climate Career Track
Earlier this year, we asked our faculty and staff to tell us who among them were taking actions or driving initiatives to advance sustainability at the university. This is part one in a six-part series recognizing sustainability efforts at UBC.
Dr. Justin Bull was just nine years old when the historic United Nations Conference on Environment and Development, known as the Rio Conference, took place. Even so, the leader of the sustainability and ethics group and academic director of the Centre for Climate and Business Solutions at the UBC Sauder School of Business cites it as a defining moment in his life.
"That's a formative memory in my mind, of the world waking up to the sustainability challenges in front of us," he says, noting that his father, UBC Forestry professor Dr. Gary Bull, was working on his PhD at the time. "I was probably more attuned to these issues than the average nine-year-old, just through exposure from the household and from spending a lot of time out in nature with my family. It was really obvious to me from a very young age that if humanity gets this one thing right, we're in good shape, and if we get this wrong, we're in dire straits."
That sense of purpose stayed with Justin throughout his formative years, as he followed in his father's footsteps earning a PhD in Forestry at UBC, during which he examined sustainability in the digital and paper publishing industries. Over the last year, it drove him toward leading the creation of UBC's new MBA Climate Career Track, which was recently launched at the UBC Sauder School of Business. The program, he says, was developed and approved "in almost record time"— a reflection of the urgency felt at UBC Sauder to address the global climate emergency.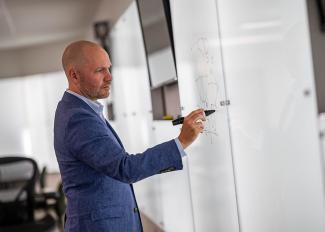 "We came up with the idea last August, proposed the program to our own faculty at a town hall in November, presented it to the UBC Graduate Curriculum Committee in February, and got it through Senate in April," Justin shares, noting that it is an expansive, cross-disciplinary program that brings a climate lens to a wide array of courses—including business economics, accounting, entrepreneurship, supply chain management, among others. It's a curriculum that reflects the shift in attitudes about climate that have taken place in the business world over the past decade.
"Climate used to traditionally sit largely within the marketing department as a corporate social responsibility initiative, and that's just not the case anymore," Justin explains. "It's now an operating reality that touches all aspects of an organization. Students, especially at UBC, want to do something about climate, and the question is, what? Our thesis was that if they can go and support and scale the climate ambitions of the private sector, that has the potential to be incredibly impactful." The private sector, he maintains, has a critical role to play in addressing and adapting to climate change. "Our market-based economy is not going anywhere, and it's far more practical and likely that we're going to evolve our current system to live within planetary realities than it is for us to try and replace the current system," he asserts. 
Justin, who sits on the economic development boards of the Tla'amin and Nak'azdli Whut'en First Nations, is also firm about the need to include Indigenous partners for a successful transition to a sustainable Canadian economy. As an entrepreneur himself, he helped develop a compliance management system to enable national resource companies and First Nations to participate in economic development together. 
"Climate used to traditionally sit largely within the marketing department as a corporate social responsibility initiative, and that's just not the case anymore."

Dr. Justin Bull, Leader, Sustainability and Ethics Group and Academic Director, Centre for Climate and Business Solutions, UBC Sauder School of Business
"Canada's positive contributions to the energy transition is hugely influenced by the development of new critical minerals and metals, enhancing and strengthening our electricity grids, developing a new hydrogen economy, and the effective management of our forests," he points out. "None of that's going to happen without the full participation of Indigenous communities, not only in the decision-making process, but also the economic upside of all of this work. And certainly, Indigenous communities historically have done a better job at recognizing the balance between human and environmental systems."
As he looks forward to welcoming the first cohort of students into the MBA Climate Career Track, Justin says he remains positive about humanity's future. "If you want to feel enlightened and optimistic about climate, just go and look at all the incredibly smart and talented people who are lasered in on a specific part of the climate crisis trying to create a scalable business solution," he says, adding that he wants to help train the next generation of climate leaders working in the private sector.
"Climate is an opportunity, it's a point of competitive advantage, it's a regulatory requirement, it's an investor preference, and it's a planetary reality that's starting to be translated into a business reality," he stresses. "We want these students to graduate understanding the new operating reality of climate, and positioned to scale the ambitions and positive impact of the private sector. They don't just need their hearts in the right place—they need their heads in the right place."
Accomplishing this goal at UBC also holds deeply personal meaning for Justin; his grandfather, mother, father and sister are all proud UBC alumni—with more to come. "My cousin is now joining UBC as the fourth generation of my family to attend this school," he shares. "I firmly believe in the power of this place and institution to support the ambitions and goals of every learner. Applying the full resources of UBC to the climate crisis is an urgent need and an incredible opportunity."

Justin is also the academic director for UBC's Master of Engineering Leadership and Master of Health Leadership and Policy.
Written by Jessica Werb, on behalf of UBC Internal Communications
September 2023
"Climate is an opportunity, it's a point of competitive advantage, it's a regulatory requirement, it's an investor preference, and it's a planetary reality that's starting to be translated into a business reality."

Dr. Justin Bull, Leader, Sustainability and Ethics Group and Academic Director, Centre for Climate and Business Solutions, UBC Sauder School of Business
Read more in this sustainability story series
Story #2 (Sept. 25)
Story #3 (Oct. 3)
Story #4 (Oct. 10)
Story #5 (Oct. 16)
Story #6 (Oct. 23)