30-second bio: Anirudh Asuri Mukundan
Get to know your colleagues from across UBC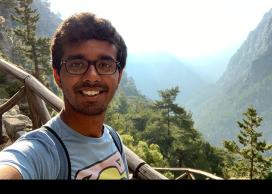 8 August, 2022
Name:
Anirudh Asuri Mukundan
My Pronouns:
he/him
Title:
PIMS-CNRS Postdoctoral Fellow
Department/Unit:
Department of Mathematics
Location:
Vancouver
Year I started working at UBC:
2020
Describe what you do at UBC in 10 words or less:
I develop numerical methods to understand human blood flow.
---
What's the best advice you ever received?
The best advice I have received was from my PhD advisor who once told "no matter how many papers you publish, what's your h-index value and how famous you become, all that matters at the end of the day is how much time you spend with your family and kids."
---
What is your favourite quote and why?
My all-time personal favourite quote reads "attitude in life should be like a wheat crop, the heavier the wheat grain, more the crop will bend." The metaphorical meaning is that it's very important to have humility no matter how much success one achieves. 
---
What do you do to ensure a healthy/work life balance?
I plan my week with a clear distinction between work time and personal time. Such a schedule has highly helped me to maintain the work-life balance as well as increase my work efficiency. Aside from work, I engage in multiple sport activities (hiking, biking, badminton, cricket) and meet with friends and relatives in the weekends.