30-second bio: Meghan MacGillivray
Get to know your colleagues from across UBC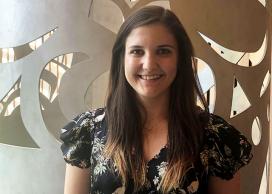 25 January, 2021
Name:
Meghan MacGillivray
Title:
MD Indigenous Initiatives and Admissions Coordinator
Department/Unit:
MD Admissions
I am:
Staff
Location:
xʷməθkʷəy̓əm (Musqueam) territory - Vancouver Campus
Year I started working at UBC:
2015
Describe what you do at UBC in 10 words or less :
I recruit and support Indigenous students to become medical doctors!
---
What is the best thing about your work/role at UBC?
My favourite thing about my work is getting to meet Indigenous students interested in medicine and then supporting them through the MD admissions process. The best part of my job is getting to tell Indigenous applicants that they were accepted into the MD Program and are going to become doctors!
---
What three words would others use to describe you?
I asked my colleague and he said "generous, dedicated, and amicable". Thanks Scott!
---
What's one personal experience you would encourage others to do/try?
Travelling! Whether it's in our 'backyard' here in beautiful BC or on the other side of the world, travelling is something that opens your mind and gives you new perspective if you're lucky enough to get to do it.