30-second bio: Amber Shilling
Get to know your colleagues from across UBC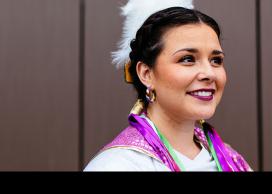 9 November, 2020
Name:
Amber Shilling
Title:
Senior Manager, Operations
Department/Unit:
Indigenous Research Support Initiative (IRSI)
I am:
Staff
Location:
Vancouver
Year I started working at UBC:
2020
Describe what you do at UBC in 10 words or less:
Support Indigenous research across UBC through relationships, facilitation, and education.
---
What is the best thing about your work/role at UBC?
Utilizing my PhD in a good way that benefits Indigenous communities and UBC is an incredible opportunity for me. The team at IRSI is outstanding and I am thrilled to be part of a team and unit that works towards respectful relationships between Indigenous people and researchers.
---
What trait do you most admire in others?
Humility. This is a core teaching for all Anishinaabeg people, but it is a critical part of the learning process to make mistakes, correct your actions, and change things for the better. I strongly believe in allowing space for gentleness as we learn, and seeing that kindness in others inspires me to take more risks in my own learning journey.
---
What's one personal experience you would encourage others to do/try?
Challenge yourself to unpack something that makes you uncomfortable. Why is that discomfort there? Is it fear of a mistake or fear of the unknown? Taking the time to work through something that feels intimidating can unleash some powerful learning and motivation to change things for the better (even in small ways!).
---
How long have you been a part of the UBC community?
As a multiple alumna, ongoing sessional instructor, and now staff member, I have been a part of UBC in some way shape or form for almost 20 years!