30-second bio: Doris Xiong
Get to know your colleagues from across UBC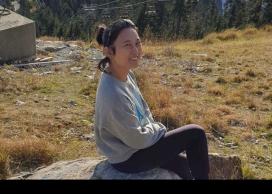 30 November, 2020
Name:
Doris Xiong
Title:
Program Coordinator
Department/Unit:
First year and Interdisciplinary Studies programs
I am:
Staff
Location:
Vancouver
Year I started working at UBC:
2019
Describe what you do at UBC in 10 words or less:
System (websites, Student Information Service Centre, Scientia, etc.) support and more.
---
What is the best thing about your work/role at UBC?
UBC is a reputable employer and it's such a big place that I feel like I could work here in different jobs without ever leaving.
---
What three words would others use to describe you?
Quirky, bubbly, and wise. 
---
What do you do regularly to invest in your mental and/or physical health?
I jog all the time. I also like frisbee, table tennis, and almost all kinds of indoor and outdoor activities. If you ever need someone to play, do email me and I'd love to join.
---
What is one thing UBC could do to help new staff at UBC?
I would like UBC Events to build an online community for staff to socialize as I'm new to Vancouver and UBC and haven't made any friends that live close by before COVID-19 hit us.