30-second bio: Tricia Logan
Get to know your colleagues from across UBC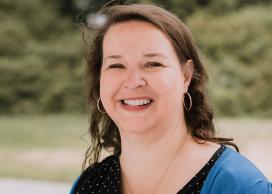 31 May, 2021
Name:
Tricia Logan
My pronouns:
she/her
Title:
Assistant Director of Research and Engagement, IRSHDC and Assistant Professor, School of Information
Department/Unit:
Indian Residential School History and Dialogue Centre (IRSHDC), Faculty of Arts
Location:
Vancouver
Year I started working at UBC:
2019
Describe what you do at UBC in 10 words or less :
Connect with communities, build partnerships and facilitate research.
---
Tell us about the team you work with – what do they do?
I work with an exceptional team at the IRSHDC across all sectors of the Centre: research, archives, communications, education and programming. I learn so much from my colleagues each day and I'm inspired by everyone's creativity. Especially since we have all had to be innovative during the pandemic to keep in touch each day and re-imagine the work of the Centre, even from a distance.
---
What trait do you most admire in others?
Chi-nahtoohtamaan pii chi-peehtamaan. To listen and to hear; having an ability to engage and listen well is a trait I really admire. Increasingly, this is a lesson I carry forward in my work and one that I learned early and often from Elders and residential school Survivors. It is something we all do, but I think an acknowledgement of being heard and feeling like you've been heard is so important.
---
What do you do regularly to invest in your mental and/or physical health?
Michif language revitalization. I was part of a master-apprentice program living with Michif Elders and speakers over a decade ago and recently re-enrolled in an online class. We created a virtual community of new or novice speakers who support each other inside and outside of the class setting. Language learning and language-community-building has been the healthiest activity I've been able to do.